June Market - Strategies for Buying Your Next Home
Posted by JoAnne Purcell on Friday, June 8th, 2018 at 3:42pm.

Calgary Market Summary - june 2018
While economic indicators continue to show improvement, and Alberta's GDP out paces the rest of the country by over 30%, our real estate market continues to have it's challenges. The impact of the tightening of mortgage rules and higher interest rates has had an impact on slower residential resale markets nation wide. It seems to have compounded in the Alberta markets as we continue to see lower than normal sales volume, which in turn is allowing the listing inventory to grow. The sales in May 2017 were 19% below last years numbers, and 24% below longer term averages.
As a result of the lower sales and climbing inventory, our absorption rate has climbed to 4.9 months which moves us into a buyers market. This is leading to frustrations for sellers with lower showing activity, and climbing days on market. However, prices remain relatively stable in most sectors regardless of the lower sales volume. The feeling across the market seems to be one of nervous anticipation. Even when we get good news it seems to come with uncertainty and controversy, failing to help boost consumer confidence in the Real Estate Market. That said, we seem to be on the brink of turning over to better markets as the economy continues to improve.
Feeling like you're on the fence about purchasing a home in today's market?
Buying a home is a big decision so we understand! Here is some information for you to consider in making a decision. Let's assume you have less than 20% down.
Food for thought: how much home would you have afforded in 2016 before the rule changes forced you to qualify at benchmark rate (which was 4.84%) instead of contract rate (which was around 2.5%) at the time?
How much home would you have qualified for in 2017 at a 4.84% benchmark rate versus a 5.14% benchmark in February 2018? How about February 2018 versus today's benchmark rate of 5.34%?
With rates continuing to increase, how much home will you qualify for a year from now if the benchmark rate has risen any further?
Aside from qualifying for less at each of these changes, the monthly payment associated with each rate increase from 2016 to today to next year has gone up also. So even if home prices go down slightly, that home may still cost you more if interest rates increase while waiting.
We would love to talk with you about how this looks in your specific situation. Give us a call at 403.519.1167 or send a message!
THINKING of BUYING?
Saving Up For Your Dream Home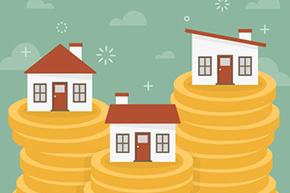 If you're just starting out on a journey of homeownership, the prospect of coming up with a hefty down payment can bring that trip to a quick halt. Whether you're a young person starting out in adult life, or your income has stalled for years, putting together a five or even six-figure down payment on a home can seem virtually impossible. And while it isn't easy with all the other costs in life, it is possible but it does take some discipline.
Mortgage brokers have seen it all. We've had clients living in big homes and driving fancy cars, only to find out they have nothing in their savings. On the other hand, we've seen clients making a below average salary with six figures in their bank accounts because they've been disciplines in saving over many years.
So it really depends on the person.
Regardless of what you earn, put aside 10 percent of what you get paid. While that sounds nice, you might be wondering how that's even possible, especially if you're not used to saving. I'd recommend having that money put aside in an automated way. All the banks offer services that can help you force save.
Though it might feel painful at first, after a couple months you'll get used to it and you won't miss the extra money at all. If you're a saver, you're eventually going to get where you need to be, maybe not as quickly as you'd like but if you're a spender then you'll likely be on a treadmill to nowhere.
At the end of the day, when you get in the true habit of saving, it's amazing how quickly that will compound and how quickly you can save a lot of money.
Now that you're on track to save, there is another aspect you need to know about your down payment.
While this might sound contrary to conventional wisdom, a bigger down payment isn't necessarily better, or the goal. Sure, if you have no debt at all, put as much down as you can. But most of us have some debt, and many of us are carrying a lot of debt and paying out hundreds of dollars a month to keep the bill collector away. You are better off putting less down and using the rest to pay off your consumer debt.
Keep in mind, every $ 400 in monthly payments roughly translates into $ 100,000 of purchasing power on a mortgage. If you get rid of existing consumer debt, you'll qualify for the larger amount you're looking for without having a larger down payment.
Tips for Safeguarding Your Credit
Check your Credit Report - You can contact Equifax and request a copy of your credit report by calling 1-800-465-7166 or by visiting equifax.ca. It is your responsibility to ensure that your credit report is accurate.
Stay informed - Carefully read all credit contracts that you sign, as they are not all created equally. for example, some lenders classify payment as "late" the day after it is due, while others allow a grace period of up to 30 days.
Set Up Automatic Payments - Set up automatic payments through your bank to ensure you do not lose track and accidentally miss a payment. It will be on less thing on your 'to do" list.
Pay Down Debt - Your credit balances should not exceed 70-80% of your available limits. If you are using more than that, it is a warning sign to lenders that you are relying too heavily on your credit to meet your financial obligations. Pay down your debts, and if possible pay for more items up front.
Be Careful Authorizing Credit Inquiries - Most people think that it's alright to shop around for the best mortgage rate or to dill out a lot of credit card applications for free incentives like T-shirts, etc. By doing this, your Beacon Score can be lowered due to the number of inquiries into your credit history..
For more information on home ownership into retirement, talk to your CIR Real Estate Professional.
Leave a Comment